Overview
Fate/Stay Night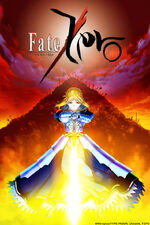 Fate/Zero
Based on the visual novel, Fate Zero is written and created by Gen Urobuchi and illustrated by Takashi Takeuchi. The anime adaptation is produced by Aniplex, Nitroplus, Notes, Seikaisha, and Ufotable. For audiences outside of Japan, it is broadcast on legal streaming sites such as Crunchyroll.
Plot: Fate Zero is a prequel that takes 10 years before Fate Stay Night. The 4th Holy Grail War is fought in Fuyuki City, Japan where 7 masters and 7 servants fight for the Holy Grail.
In this anime series, it revolves around Kiritsugu Emiya, Irisviel, and Saber who participate in the tournament. Even though Kiritsugu is Saber's true master, he has Irisviel take place as Saber's master, so he use his assassin skills to target the masters and plan strategies.

List of Episodes
| # | | Episode Title | Air Date |
| --- | --- | --- | --- |